Yankees MLB Draft Report: Day 2
Round 3 (Pick 105)
Jacob Sanford
CF
Western Kentucky University
With the New York Yankees third round pick in the 2019 MLB Draft, they selected Jacob Sanford from Western Kentucky. Sanford was one of the top hitters going into day two following a phenomenal season in which he won the first ever Conference-USA Triple Crown while hitting .398 with 22 Home Runs and 66 RBI's. MLB.com originally put Sanford at 107 in their top 200 MLB Draft prospects. The 21-year-old started his collegiate baseball career at McCook Community College, where he originally walked on. He transferred to Western Kentucky following his sophomore season. Sanford will probably stick in center-field and could prove to be a top of the order, contact hitter and on-base machine in the minors. The Yankees have an extensive amount of outfielders in their organization, many of whom are locked down for many years, so I wouldn't be surprised to see Sanford on the move at some point in the next few years.
Round 4 (Pick 135)
Jake Agnos
LHP
East Carolina University
The Yankees went with another left-handed college arm in Round 4 following the selection of TJ Sikkema in the CBA Round. Jake Agnos was a starting pitcher at East Carolina University and in 2019 posted an 11-2 record, and 2.02 ERA with 140 strikeouts in 98 innings pitched. Agnos won the AAC pitcher of the year award and broke the ECU record for single-season strikeouts. Even though he was a starter in college, Agnos is expected to pitch out of the bullpen at some point in the future.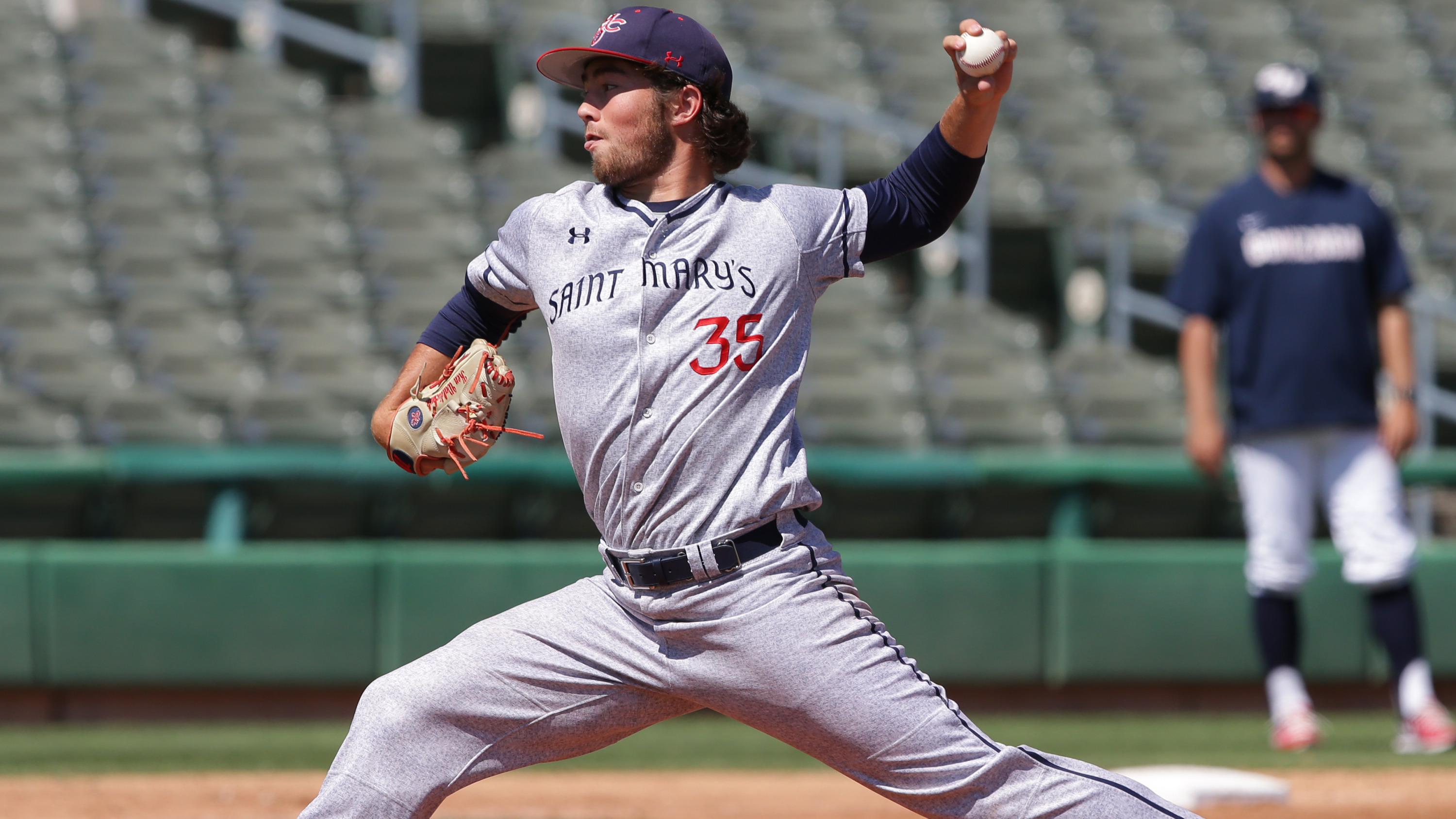 Round 5 (Pick 165)
Ken Waldichuk
LHP
St. Marys
The Yankees drafted their third left-handed college pitcher with their 5th Round selection. With the 165th overall pick, they selected Ken Waldichuk out of St. Marys. Waldichuk, a 21-year-old redshirt junior, posted a 3.69 ERA with 106 strikeouts in 92.2 innings in 2019. Waldichuk has a low to mid 90's fastball to go with a dominant slider and curve, plus a changeup.
Round 6 (Pick 195)
Hayden Wesneski
RHP
Sam Houston State
The Yankees went with Sam Houston State righty Hayden Wesneski with their 6th round pick. Wesneski was drafted by the Rays in the 33rd round of 2016 but turned it down to go to SHS. The 6'3 215 pound starter was ranked by MLB Pipeline as the 182nd best prospect going into the draft following a season that saw him post a 3.32 ERA with an 8-3 record. Wesneski's mid 90's fastball and above average secondary pitches could lead him to be someone who sticks in the back end of a starting rotation, but also could see a move to the bullpen.
Round 7 (Pick 225)
Nick Paciorek
RHP
Northwestern
Nick Paciorek, a right-handed reliever was a steal by the Yankees In the 7th Round of the draft. Before the draft he was ranked by MLB Pipeline as the 192nd best draft prospect. Originally a catcher, Paciorek made the switch to the mound during his sophomore year and didn't make his collegiate pitching debut until late into his sophomore campaign. His mid-80's wipeout slider and mid to upper 90's fastball made him the most reliable pitcher out of the bullpen for Northwestern in 2019. He wound up leading the Wildcats in strikeouts and ERA, with a 3.37 ERA and 44 strikeouts.
Round 8 (Pick 255)
Zach Greene
RHP
University of South Alabama
Zach Greene was one of the more under the radar prospects coming into the 2019 season, but dazzled on the mound at South Alabama, pitching to a 1.45 ERA while striking out 70 in 49.2 innings. He primarily worked out of the bullpen, but was able to fulfill multiple roles on the mound. Greene had transferred twice before finding a home at South Alabama, and is a senior sign at age 22.
Round 9 (Pick 285)
Spencer Henson
1B
Oral Roberts
The Yankees decided to go for a two-way college player in Spencer Henson with their 9th round selection. Henson was announced as a first baseman, but posted a 2.65 ERA in 10 innings of relief in 2019. At the plate, he hit .362 with 19 home runs. The big right-handed hitter has drawn comparisons to Luke Voit, as someone who can hit the ball hard and far, to all parts of the field.
Round 10 (Pick 315)
Mitch Spence
RHP
USC-Aiken
The Yankees concluded day two of the 2019 draft by selecting Mitch Spence, a junior right-handed pitcher from University of South Carolina-Aiken. Spence received All-Conference honors after putting up a 9-4 record with a 3.94 ERA and leading his conference with 104 strikeouts in 2019. He currently owns school records for career saves and career ERA.
The following two tabs change content below.
Eli Fishman is a 15-year old college and minor league baseball writer for Double G Sports. He writes about MLB and MLB Draft prospects. Eli has experience broadcasting college baseball and has his own website and YouTube channel where he interviews professional baseball players.
Latest posts by Eli Fishman (see all)
Polls
Loading ...
Photo of the Month